Do you want to reduce how much you spend in interoffice calls, or conference calls ?
Do you have support staff who are constantly calling interstate ?
The technical, possibilities integrating voice and data would be one of the most undersold architectural concepts, which can be easily justified. Often these initiatives fall down due to over protective information systems managers who feel data traffic is sacrosanct and they could not survive with 1k less in bandwidth let alone 8k
The combination report of your current voice and data situation then represents an overall network requirement, which can then be used to determine costs and savings on which you can make a decision.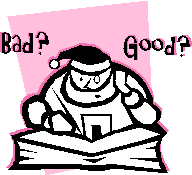 You need this service because your competitor is decreasing their margins at a rate which you are struggling to keep up with. You have already issued instructions to reduce the number of STD calls or prohibiting them and now as a result your service levels are dropping due to the lack of communications, nationally.
You need this because you are under pressure to reduce the costs going onto bottom line.
Finally do you want someone who needs your business and wants it to be repeated, or someone where you are just another account number.

16/04/2002 04:02 PM